How To Color Correct
24 August 2017
The all NEW Concealed Palette is filled with 10 concealer shades, and 6 color correcting shades to achieve a flawless complexion! Apply product sparingly for light coverage, or build for a quick and effortless full coverage look. Each shade has been created with every skin tone in mind, making this a multi-functional palette for everyone from individuals to professional makeup artists. Keep reading for the best tips and tricks on how to achieve the exact look you desire.
Share your look featuring this palette with #CoastalScents and #ConcealedPalette, we love to see you!

Blend away your problem areas!



Use the blue shade on fair skin for an effortless way to create a more even and healthy skin tone! This shade will cancel out patchy areas and light hyperpigmentation from past breakouts, providing you with a more radiant look.
For purple tones caused by scaring, lingering marks from past breakouts, or veins showing through thin skin, apply yellow to neutralize and diminish their appearance on light to medium skin tones.
The caramel shade is ideal for blurring away hyperpigmentation and uneven hues on deep skin tones for a truly flawless appearance.


For intense redness from breakouts, sun burn, or rosacea, apply the green shade to neutralize the harsh tones these ailments can produce on all skin tones. Color correcting before concealing will ensure less product is needed to achieve the same level of coverage! This shade can also be used on deep skin tones above the brow and on the bridge of the nose to define and add luminosity.
For mild redness, yellow is the perfect shade to subdue these unwanted hues and achieve a more even complexion on light to medium skin tones.




The orange shade is ideal for canceling the harsh tones under the eye on light skin tones. It also works to minimize the appearance of dark spots quickly and effectively!
Use purple on medium skin tones to effectively neutralize dark circles. You'll be left looking much more refreshed and well rested, complete with a brightening effect.
The caramel shade is ideal for canceling out stubborn dark circles on deep skin tones, and even works to neutralize tattoos before the concealer shades are applied.
If your under eye circles contain a large amount of purple pigmentation, start with yellow to achieve the maximum amount of coverage on all skin tones. Your complexion will be left with a more even and youthful appearance.




Purple is the ideal shade for correcting sallowness and yellowing of the skin caused by bruising, or other conditions on all skin tones. It is most commonly used on the cheek, chin, and eye area.
The orange shade is ideal for brightening light skin tones. Apply anywhere you'd like to achieve added radiance and glow.
Use the caramel shade for cancelling out ashiness on medium to deep skin tones for a natural looking, healthy glow.
Orange is a common shade of discoloration, and can be quickly and effectively neutralized with the blue shade on light to medium skin tones.

     The 10 versatile concealer shades in this palette have been carefully crafted to benefit every skin tone and type. Apply sparingly for sheer, natural coverage, or easily build product for a full coverage finish. These shades can even be used to achieve the perfect cream contour! You'll find they blend easily and provide you with a beautiful finish. Whether you're a beginner, advanced, or even an MUA, this palette offers incredible versatility for every skill level.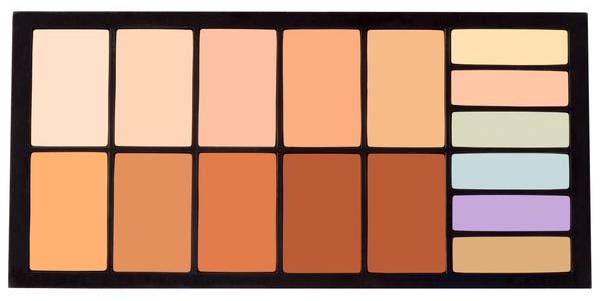 To achieve a flawless application, check out the NEW Brush Collection below!

     The NEW Brush Affair 12 Piece Brush Sets are LIMITED EDITION, and feature 12 luxurious makeup brushes used by the pros! Available in four versatile color options, this collection is complete with matte black ferrules and synthetic bristles. They're excellent for applying both dry and liquid products, and will help you to easily acheive any look you desire. Each set is even complete with a matching magnetic case to protect your brushes, making it a perfect option for both travel and daily use!




Share your look featuring this palette with #CoastalScents and #ConcealedPalette for the chance to be featured on our social media pages!
Check out this review!
"Tried my new concealer kit for a week and received compliments like "Did you get work done?" "You look 10 years younger." Best concealer ever used and will come back for more. Get it!"
---
Rita Hughett August 24, 2017
To be honest I wasn't sure about getting this, I mean like do I need another concealer pallet? Love the new Concealed Palette, my daughter & I both use it and can't imagine how I ever got along without mine & she feels the same! What I like best beside all the great shade selections & and how creamy & bendable they are, is the color correcting shades that come with it, all in one! I bought two at the introductory price, (1 for me & 1 for my daughter) but I will pay the reg price when I need to order again because this palette is that good! If you are trying to decide…get it! Everyone needs this in their makeup routine. You won't be disappointed!
---
Showing 1 - 1 of 1 comments
Leave a Reply
All fields are required. We won't spam you!
---