Classic Blender Crease Brush Synthetic
$ 3.00
$ 3.00
Add mystery and depth to your eyes with our Classic Blender Crease Brush. This tapered, synthetic bristled brush is ideal for blending mid-tone and darker shades, in the crease and on the eyelid, to create a smoky effect.
Recommended Application: Blend shadow precisely at crease and change intensity of color/look with more or less product.
---
To purchase the natural hair version of this brush click HERE.
Dimensions: Bristles : 00.59" (01.50 cm), Ferrule : 01.50" (03.80 cm), Handle : 05.04" (12.80 cm)
SKU: BR-C-S08
UPC: 812158021277
---
Customer Reviews
Write a Review
Ask a Question
Filter Reviews:
brush
brushes
color
love
shadows
others
purchase
crease
application
most
01/28/2020
Mayra N.
Brazil
SO so
SOrry, CS, but this is not so soft I expected, not the as this brush collection. SOrry.
12/24/2019
ishe w.
United States
Great quality
Very soft perfect for blending
08/20/2019
BIANCA I.
United States
Soft Bristles
If you are looking for a brush that can pick up shadows and still stay soft upon application, this one is doing the job for me. Love it.
06/12/2019
Valquiria f.
United States
Very nice
These brushes are amazing. I use them everyday!
05/21/2019
Anonymous
United States
Good as usual
Perfectly made for "clean and nice" crease blending.
12/19/2018
Anonymous
United States
Favorite blender brush??
This has become my favorite eye blending brush. For the size of it, its very precise.
Perfectly sized crease brush!
This is a great brush, and I plan to pick up several more so that I can have one on rotation when others are dirty or drying after a wash. This is small enough and pinched at the ferrule in a way to make it better for detailed crease work. I have hooded lids so most of what I do with a standard crease brush ends up covering most of my upper lid almost to my brow bone. This brush allows me to wedge color in the crease and keep it there. Very soft bristles (I am cruelty-free and only use synthetic brushes), super easy to clean, and well made. Very happy with my purchase.
11/10/2018
Anonymous
United States
Great brushes
In love with this brushes
Unique
I can honestly say I do not have another brush that's like this. I love it. I would describe it as a detailed blender crease brush. What I mean by that is it's a bit more precise of a brush/blend compared to your standard blending blush. I use this if I want to blend out a crease without it getting to muddled or "blown" out. The bristles are soft but do have a nice amount of stiffness (it's not too flimsy) that enables it to actually blend instead of just flopping around and not moving/blending product.
08/27/2018
Carla N.
United States
Okay but Not Fluffy
I wanted an inexpensive crease/blending brush to use for every day, so I can save my higher-end brushes for special occasions. This one is soft and works, but it lacks the abundant "fluffiness" that I prefer in this type of brush. I did find that is helps to hold this brush perpendicular to a hard surface and press down, "smashing" the brush fibers and spreading them out, so that they're not so compact. Once loosening up, this brush works for applying shadows lightly to creases or browbones, but it's not the best for blending. I'll look for another brush to do that job.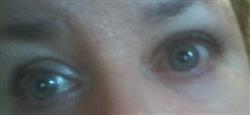 TOP