28 Neutral Eyeshadow Palette
$ 11.00
$ 11.00
You're a natural: From everyday to evening, create a naturally beautiful you with this twenty-eight palette full of sheer nudes to rich browns. Smartly housed in a chic black case, this palette offers highly-pigmented shades that can apply either wet or dry for varying makeup effects. Transition from girl-next-door to who's-that-girl.
---
Dimensions: Palette: 9" x 5.97" x 0.41" (22.9cm x 15.2cm x 1cm), Eye Shadow Pot Diameter: 1" (2.5cm)
Net Weight: 45.0g / 1.58oz
Ingredients: Talc, Mica, Mineral Oil Kaolin, Titanium Dioxide Magnesium Stearate, o-cymen-5-ol. May Contain: Mica and Titanium Dioxide, Iron Oxides, Manganese Violet, Ultramarine Blue, Chrome Oxide Greens Hydrated Chrome Oxide Green, FD&C Red No.40 Al Lake, FD&C Yellow No.5 Al Lake, FD&C Blue No.1 Al Lake.
SKU: PL-005
UPC: 812158020041
---
Customer Reviews
Write a Review
Ask a Question
Filter Reviews:
colors
quality
price
palette
pigment
eyeshadows
shadows
eyes
makeup
range
12/11/2017
Alicia Z.
United States
MY GO TO PALLET
this is my ever day "go to" pallet and I love it! I love it so much I purchased one for each of my team members as part of their Christmas gift.
03/04/2020
Alicia Z.
United States
Go to pallet
This is my daily go to pallet! Pigment is excellent and the colors are all stunning.
03/01/2020
Temiko M.
United States
Nice
Nice everyday colors! Great palette for beginners.
02/05/2020
Namitsuki
Mexico
Love this palette
This palette is well pigmented! I love all the shades and can be used to make a lot of natural looks. Some of the lighter shades aren't very pigmented but is normal with those types of shades. Overall I'm very satisfied and look forward to try more products since this brand is very affordable and have a lot of beautiful and great value products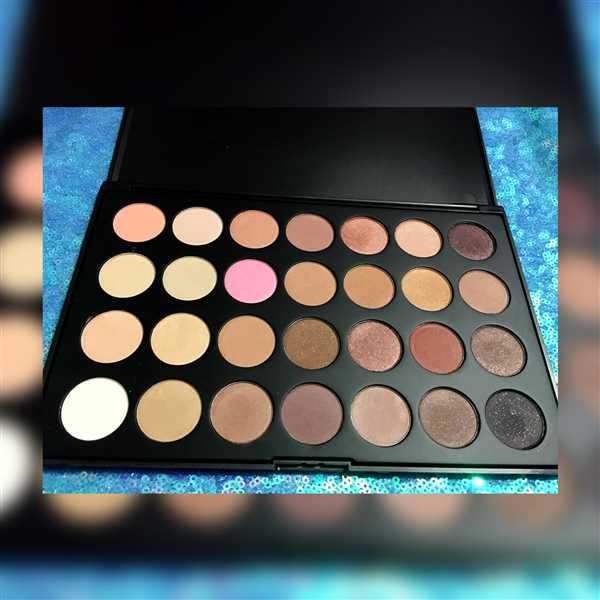 01/27/2020
Carrinn T.
United States
28 Neutral Shades of Eyeshadow Palette
I can not give this palette the review that it should get, as I have only used it four times and each time for a different look. I am 70 years old and have loved makeup since I was a very small child who would get into trouble for playing in my Mother and older sister's makeup. I love neutrals; I love a natural eye; I love a smokey eye; I love a dramatic eye; I love a colorful eye. I just love eyeshadows and go with whatever mood I am in that day. I love pinks and purples and have used those shades more with my gray eyes and silver hair. I have done a smokey eye look from this palette and a natural eye using only two of the beige and lighter taupe shades. I have done an all over eye look with one pinky taupe shadow and lined the eye with a rose gold liner. They have all been beautiful looks. The shadows are nicely pigmented, but if you want an intense look, all you have to do is load your brush and then spray the brush with setting spray. I do recommend using a good eyelid primer because the shadows will muddy after several hours if you do not. The primer keeps the shadows from moving around and helps with blending and keeps these shadows from becoming muddy. Great price for the quality of shadows that you get with Coastal Scents.
01/27/2020
Courtney
United States
Great quality!
This palette is awesome! I'd especially recommend it for someone just starting out in makeup. It has the best range in neutral tones. They also range from lighter pigment to darker. So you could really use it for just about any look. It all goes on nicely without almost any fall out. It blends perfectly and the looks are always amazing! This is one of my go to palettes for every day wear. I can use it to have a natural look just for work or glam it up for a girls night out. It's the perfect palette for every look!
01/19/2020
Anonymous
United States
Great neutral palette
Great neutral palette of mattes and satins - a good selection of colors. Color payoff is decent and blendability is quite good great value for the money
12/31/2019
Caitlin .
United States
Great for everyday looks
I do wish there were some more true mattes in here but otherwise very versatile
12/23/2019
Brandi B.
United States
Great palette for a nice natural look
I was very pleasantly surprised with this palette. The range of colors are great and the blendability is excellent!
Revealed - The beauty of your eyes!
My Mother's Day gift from my husband was a trip to the MAC store. Before we could get there, I ran across Coastal Scents. I knew what I could get at MAC so the values and colors here were pretty overwhelming. My only concern was would the quality be up to MAC or Urban Decay. I ordered 3 palettes, Revealed, R Smoky and R Matte. They arrived and I am more than impressed. The final test was when I showed my eye makeup to my good friend, a makeup artist of 35 years. Before telling him what I was wearing, he said it was beautiful and very subtle. He was impressed with the look and value. I think that next month I'll get Revealed Rouge. Thanks for the product. Oh, I also ordered 3 blushes but haven't gotten them yet. Still, I expect they'll be as good as the eyes.
TOP